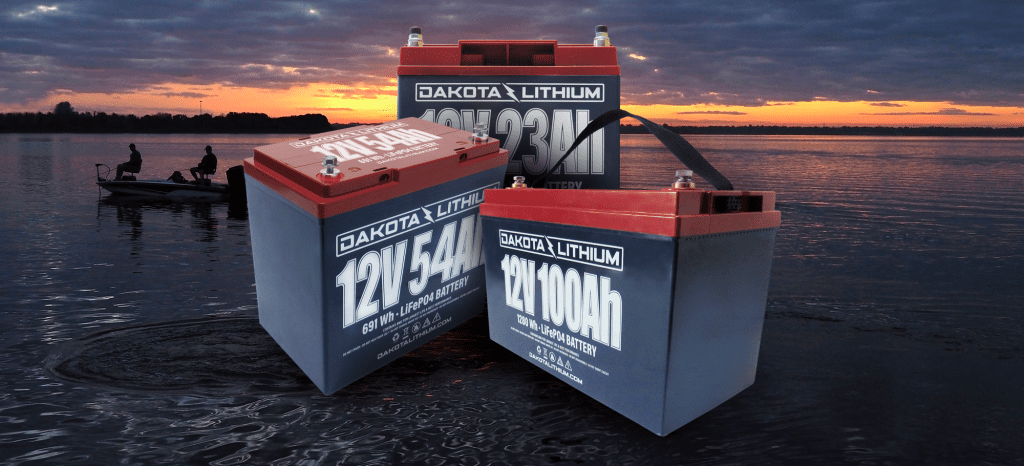 Dakota Lithium is a proud sponsor of over 40+ professional athletes in the fishing industry. From kayak fishing to pro bass tournament boats, we have the battery for you. Here's what our pros have learned:
For 12V trolling motors the capacity of your battery must be larger then the lbs of thrust of your motor. I.e. use a battery with an Ah (Amp Hour) number that is larger then your lbs of thrust. For example, a small motor with 20 lbs of thrust to be used on a kayak requires a battery with 20 Ah of capacity or greater. The more lbs of thrust the larger the battery needed. The more run time you want the bigger battery you need.
For 24V and 36v trolling motors our pros recommend connecting multiple batteries in series. This provides more run time that a single 36V battery, and is also easy to charge (each single battery weighs less and is easier to carry for charging). For example, Pro Bass Fishing champion Brock Mosley uses 3 of our Dakota Lithium batteries in his tournament boat to power a 36v system. The result is 17 hours of run time. To make wiring 24v and 36v systems easier we recommend Connect Ease. They make simple, and easy to use battery wiring solutions (and are a proud South Dakota company).
Motor Thrust / Max Amp Draw (A) @ Voltage (V) / Recommended Battery
P.S. > A tip from the pros: use a solar panel to extend your run time. For example, our folding solar panel will increase the run time of the DL 23Ah battery by +120% over a 10 hour fishing day.