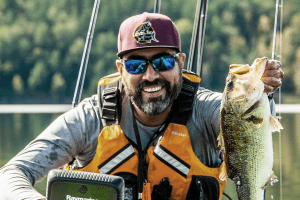 Roberto Briones – Team Dakota Lithium – Kayak & Ice Fishing
Hometown: Embrun, Ontario, Canada
I started fishing in 2002 and fell in love with it after catching my first bass. The love grew into fishing tournaments out of bass boats. Studied bass fishing like a nerd. Life events made me sell my beloved Bullet Bass Boat in 2013 and that's when I made the switch to kayak fishing. I've been "hooked" ever since!
Sport of choice in the winter? Summer?
In the summer I love Kayak Fishing…. In winter it is ice fishing
What circuits do you compete in?
KAAO – Kayak Anglers Association of the Outaouais
Wins, Accomplishments, and Big Moments
President and Founder of KAAO Northeast.
Kayak Fishing Challenge Champion 2017.
Pan American Kayak Bass Championship (Team Canada) in TN May 2019 13th place overall.
Selected Team Canada for the China Open October 2019
How did you start in your sport? (What's your origin story?)
Boat fishing was getting too expensive. Wanted an easier-to-get-to-the-water way of fishing and found my niche in kayak fishing
What is your favorite Dakota Lithium Product & WHY?
12V10Ah batteries for my fishing electronics that require a dedicated battery and the 10Ah Power Box for portability!