Here at Dakota Lithium we have helped boat owners across the globe install custom energy storage solutions. Most boat owners that have chosen to install Dakota Lithium on their boat do so for four reasons:
They would like to increase their storage capacity. Dakota Lithium batteries have a flat voltage curve, so they provide about twice the usable power as a lead acid battery with the same amp hour (Ah) rating. This means you get twice the usable power with the same number and size of batteries as before (Dakota Lithium batteries are drop in replacements for SLA, AGM or lead acid batteries).
They would like to increase the efficiency of the solar energy panels on their boat. Dakota Lithium Iron Phosphate (LiFePO4) batteries are significantly more efficient at storing and transferring solar energy. Plus, with LiFePO4 you can access all of the energy stored in the battery, down to the last drop. And since the voltage curve is flat in your boat the lights don't dim when the batteries are only half used up.
They are looking to cut weight off their boat. Dakota Lithium batteries are 60% lighter then a lead acid battery. For boats with a large battery bank that can mean a weight savings of hundreds of pounds if you upgrade to lithium. It also means the battery is light enough for you to carry on your own. No breaking your back installing heavy lead acid batteries.
Longer lifespan and better lifetime value. Dakota Lithium batteries last 4-5x longer then a lead acid battery and are backed up by a best in class eleven year warranty. That means you spend time upgrading your batteries once and you are set for a decade vs. spending time every few years switching out your dead and heavy lead acid batteries.
A Dakota Lithium Iron Phosphate (LiFePO4) battery has a low self discharge rate of only 5% per month. In other words, it takes six months for a Dakota Lithium battery to self discharge to the same level a conventional battery reaches in just thirty days. That means you loose less energy when in storage, and if you take a break from sailing you won't return to dead batteries.
For those folks looking to install batteries here's a schematic that shows one way to install and wire your battery bank. The schematic is based on the lithium battery installation of Dakota Lithium batteries on the Polar Seal, Beneteau Oceanis 40 Sailboat from 2007 by Ryan and Sophie sailing.
Please note that the energy needs of each boat differ, if you are unsure of your wiring set up please contact a local electrician. For recommendations on what battery solution would be best for your boat send us a note at sales@dakotalithium.com or via the form below.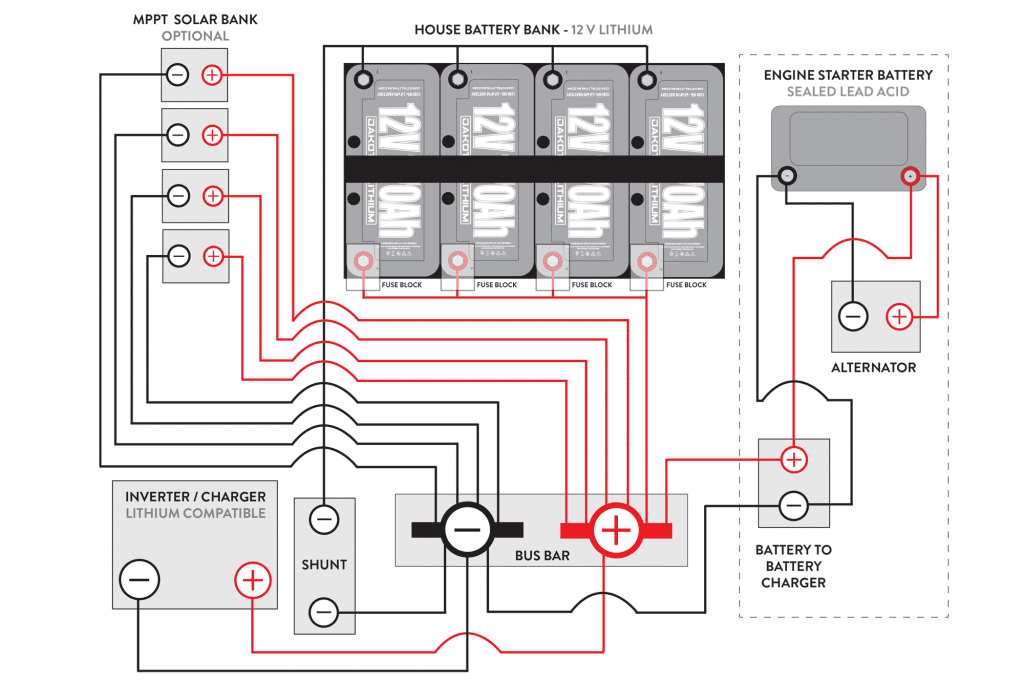 Schematic from How to Install Lithium Batteries on a Sailboat by Ryan and Sophie sailing.
Free Engineering Consultation
Looking for advice on what battery solutions work best for your boat? Contact us for a free engineering consultation.