Here in North Dakota ice fishing is a way of life. Our company, Dakota Lithium, was born from our love affair with ice fishing and our desire to build batteries that perform well in cold & rugged conditions. We are grateful for the passionate support from the ice fishing community, and we are proud to have helped hundreds of thousands of fishermen power their passion with long lasting lithium iron phosphate batteries, and to sponsor top ice fishing athletes as part of Team Dakota Lithium.
Ice fishing presents a rugged and challenging environment for electronic devices. The old way of providing mobile power, the lead acid battery, just doesn't perform well in the cold. Before Dakota Lithium changed the game it was common to bring 2-5 lead bricks onto the ice with you to power your fishing electronics. That's a lot of weight, and a lot of waste. Dakota Lithium is here to make it better, and power your passion in all conditions, no matter the weather.
Here's the top 5 reasons why Dakota Lithium batteries are the top choice for ice fishing (and any cold weather activity):
Dakota Lithium provides double the run time of lead acid. More run time means more fishing time.
Dakota Lithium batteries last 4X longer then lead acid. Providing piece of mind and greater lifetime value. Backed up by a best in class 11 year warranty.
Dakota Lithium weighs 60% less than deep cycle lead acid batteries. Stop carrying around pounds of lead!
Dakota's lithium iron phosphate works well down to negative 20 degrees Fahrenheit (-29 Celsius) meaning you can power your radio and other electronics if the power goes out or when you are on the go in extreme conditions.
You need less batteries when you use a Dakota Lithium. Lithium iron phosphate has a flat voltage curve. That means that the voltage does not drop as you use the battery. You get all the juice down to the last drop. No need to carry multiple batteries.
The most popular battery is our Dakota Lithium 10 Ah (Amp Hours). A battle hardened model, that was recently updated with an even lighter build, has proven itself as an all day ice fishing battery. Its the sweet spot of power, with enough juice for a full day of fishing with most fish finders, including a Vexilar and Humminbird Helix 7. But if you also want a battery that you will use all year, we recommend the Powerbox 10 (includes a 10 Ah battery & charger). Built to power many different electronics, its a multi-sport battery that is great for powering many devices at the same time.
For Aaron with North Country Life adding a Dakota Lithium 10Ah battery to his rig has changed his ice fishing game in a big way:
"Just wanted to write and say thanks for the awesome product! I run a Humminbird Helix 7 for ice fishing and have had nothing but trouble with batteries in it. I used to run my old Vexilar on one lead acid battery for an entire weekend, but when I switched to the Humminbird I would go through 3 batteries per day! Now that I switched to you guys I'm getting an entire day on one battery. That is HUGE!"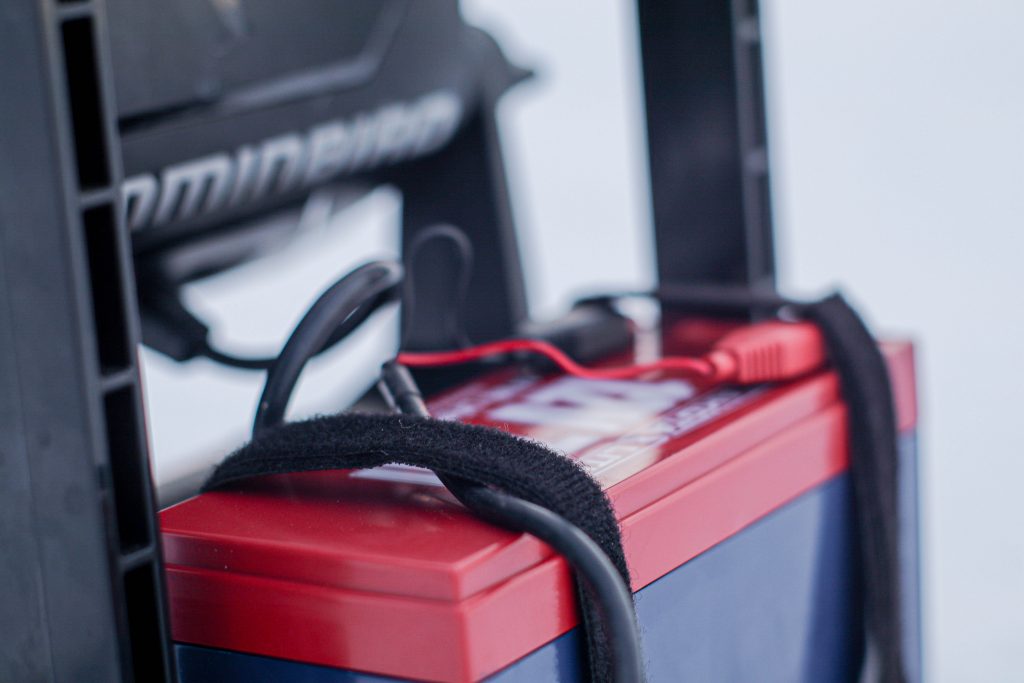 And J. Andre agrees:
"I can second that !! I run same unit Helix 7. These Batteries last the entire day. I used to need two SLA batteries a day and that's running the Unit on 1 or 2 brightness. Also makes the carrying of this unit a breeze with how light it is now." – J. Andre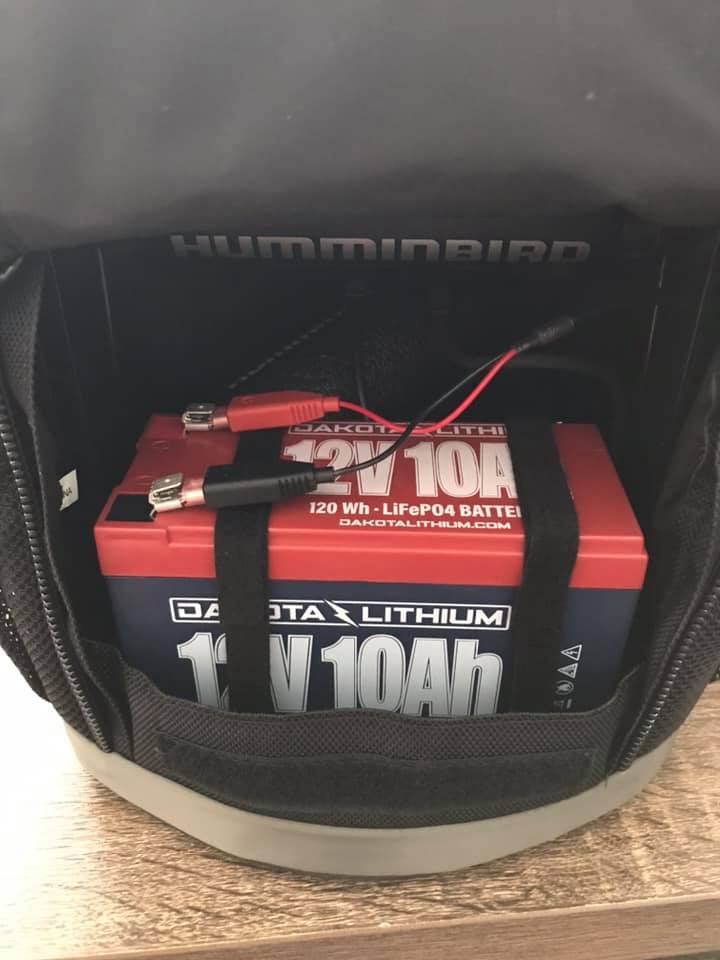 "Bought this battery to replace the lead acid battery in my ice fishing fish finder that only lasted about 6 hours on the ice. The Dakota LiFePo 10Ah lasts for days instead of hours out on the ice!!" – Time Gorman
"I personally can say I had the exact same results, I would get maybe 3 hours out of a standard battery. Bought the 12v10ah DL and fished many long days and never ran out of battery and it made my unit so much lighter! These batteries are legit! Now to install it into the yak…" – Alex Geisinger