So you've decided to give RVing a try. A great choice!  (We have been RV'ing full-time for almost 3 years now and it is an amazing lifestyle.)  If you're going to be living in your RV full-time, you're probably down-sizing from your sticks and bricks home and wondering what gadgets and appliances should I keep for my tiny kitchen. While every person will have certain "must have" items, there are some essential tools that every kitchen, including your RV, should contain. Your ultimate choices will be determined by the size of your family, the amount of storage in your rig, and whether or not you are using full hook-ups or boondocking.
Coffee/Tea Maker
I don't know about you, but a cup of coffee and some solitude is the only way to start my day.  Thus, my first essential item is a coffee maker.  There are many choices and this item is definitely one that is determined by personal preference. Pod coffee makers, drip, thermal and even percolators are all popular options.  Some people choose a pour-over or French press. No matter how you brew it, a coffee maker is essential.
And if tea is your bag (no pun intended), then a means of heating water is essential.  Tea kettles, electric or stove-top, or even a pot or a microwave safe container for heating water and a teapot (collapsible, mini, or full-size) complete the basics for tea preparation.  
Dishware
Living in an RV means keeping things versatile and light-weight. This means choosing dishware that is microwave and/or oven safe, works in multiple ways, and doesn't break easily. 
Plastic, paper, tin, ceramic, glass, melamine and tempered glass (Corelle) plates and bowls each have pros and cons.  If sustainability is a concern, then dishware that can be washed and reused is a good alternative. If you have children who eat outside, something sturdy and unbreakable is a best bet.  Storing your dishware for travel days may influence your selection; however, non-slip shelf liner, velcro straps, and bungee cords can minimize breakage.  And don't bother with extras for "guests"–use disposables or have them bring their own. 
Drinkware 
Cup essentials include glasses for a variety of beverages from juice to wine, milk to beer, and everything in between, so consider your usual beverage choices when selecting drinkware. I only ever use a ceramic mug for my coffee and living in an RV hasn't changed that habit.  Plus, I can scramble an egg, bake a muffin, serve soup or chilli, and mix-up dessert in it!  My other drinkware is my water bottle, and a wine glass, so my needs are easily met. Plastic cups, hot/cold paper cups, stainless steel, glass–are all options for drinkware.  What is your favorite?  Bring it along and use it just as you would in your sticks and bricks home. 
Mason jars are popular with RVers because they are sturdy, multi-use items.  You can use a Mason jar for your breakfast juice, your mid-morning water break, your lunch-time tea, your cocktail hour, and your bedtime relaxer.  Plus, with a lid, spills are minimized.  When not being used as a beverage container, Mason jars are great for storing loose items in your pantry,  refrigerator, and freezer; they  make great "bug" collectors for your kids, and can even be used for canning!  Making freezer strawberry jam is a great family activity–especially if you've just picked your own strawberries! 
Cookware
Another kitchen essential is pots and pans, cookware. A cast iron skillet is a versatile option–you can fry, saute, boil, bake, and broil in one. It works on the stovetop, with induction, and in the oven, on the grill, and over an open fire. It doesn't go in the microwave, however. If the microwave is your go-to cooking source, then glass, pottery, or ceramic may be a better choice.  Cast iron is also heavy, so if weight is a consideration another form of cookware may work better for you.
Stainless steel cookware is lightweight and cooks evenly on a stove-top, (and even at low temperatures in the oven), but the handles can make it awkward to store. Nesting and removable handle cookware are great products for stove-top cooking. Calphalon, Farberware, Circulon, Magma and other manufacturers offer non-stick, anodized, aluminum or stainless surfaces in multi-size cookware sets. Two, four, and six or eight quart pans are usually adequate for most cooking tasks. Lids are always nice to have and can be turned upside down to allow stackable storage, or kept separately.

Knives 
Good knives are vital for any kitchen and especially for RV living.  Three basic knives are chef's, paring, and serrated. With these three knives most kitchen tasks can be completed with ease. And it goes without saying that a cutting board (wood, bamboo, ceramic) is important for safety.  Knives with covers prevent mishaps and help to keep your knives sharp as well, although a small, hand-held sharpener is an optional addition to your supply of utensils.
Appliances
The list of small kitchen appliances includes instant pot, crock pot, electric frying pan, rice cooker, blender, food processor, air fryer, juicer, smoothie maker, waffle iron, toaster, toaster oven, egg poacher,  stand or hand mixer, electric grill, ice cream maker and bread machine just to name a few!  Choose the appliances you use the most at home to bring along to your RV kitchen, keeping in mind the amount of storage you need for each item, the frequency of use, and the versatility
Instant Pot
The newest version of the old-fashioned pressure cooker, the Instant Pot is versatile and except for the coming to pressure time uses less electricity than an oven.  Wattage on your IP will vary by size with a 3 quart cooker using about 700 watts and an 8 quart pot consuming about 1200.  If you are off the grid, then this may be a serious consideration.  And during the coming to pressure time, using other electric appliances may put a burden on your electrical system–especially if you are boondocking.  Yet despite these drawbacks, instant pots are one of the most popular kitchen appliances for RV life.  It's their versatility:  you can cook eggs for breakfast and a roast for dinner in the same pot and in a short amount of time.  Time-saving cooking means more time for family fun and that is one of the joys of RV living.  
Crock pots or slow cookers, rice cookers, electric frying pans, and air fryers 
Your choice will be determined by your cooking preferences. If you only eat rice once in a while, or make chilli only in the cooler months, then a specialized appliance may not be necessary. Consider the adaptability of each appliance when making your choice. This is true also for: waffle maker, egg poacher, ice cream maker, air popper, bread machine, electric grill, and toaster which are more specialized, one-function appliances that you might also think about having in your RV kitchen. The choice of these will depend on your storage space, the frequency of use, and your family's wants.  If you have a child (or spouse) who wants "fresh" waffles every other day for breakfast and hates toaster waffles, then a waffle maker becomes essential.

Blenders, food processors, juicers, smoothie makers, and immersion blenders 
Consider your counter space for storage as well as use in choosing which to add to your RV kitchen.  Will you drag out that full-size blender or food processor every time you want to make a sauce or dressing or would an immersion blender or upside down mini-blender be an easier to use choice?  What do you cook the most for your family?  Will you want to make gourmet meals or will you want to reduce kitchen/cooking time for more family activities?  The size and diverse uses of a given appliance need careful consideration for RV life.
Bakeware
If you like to bake bread, casseroles, desserts (cakes, pies, brownies, cookies, muffins) then specialized utensils for baking are essential kitchen items for you. In choosing to bake your own, whether desserts or bread, casseroles or roasts, consider whether you will be saving money over purchasing ready-made items (fresh or frozen), whether you have the time to prepare such items, and whether you get enjoyment from these activities.  Bread, cake, muffin, and pie pans can be used for other cooking chores as well as for baking.  Adding a rack to one of these pans makes it a roaster; glass pans can cook and bake in the microwave saving time and energy; and fixing a small batch may satisfy a particular eater's needs.
Mixers
In addition to pans, measuring cups and spoons, bowls, rubber spatulas, and a stand or hand-held mixer may be necessary. A stand-mixer is heavy and takes up a considerable amount of space; however, if you are baking bread weekly, or creating a batch of cookies for a family, it is an essential item.  If you do not have storage space inside your kitchen, consider your "garage" spaces for storing a large stand mixer.  Other than baking large batches, or hard to combine ingredients, a hand-held mixer will suffice.  And a hand-held can also be used to mix ingredients for a smoothie, to mash potatoes, to cream soups, and even to mix your favorite cocktail.  Versatility!
Can opener
Whether you have a manual or electric, you will want a can open. Obviously boondocking & dry camping are best served by a manual. You can get one that can be wall-mounted or thrown in your utensil drawer. Electrics are easier to use but wear out like any machine.   A "church" key is also a handy opener to have.
Grater
Box, rotary, flat (paddle), microplane, zester, spiralizer–your choice, but having something to grate cheese, or lemon, or chocolate, or vegetables is essential.  Choose a grater with fine and coarse sizes for all of your grating needs.

Storage Containers
Glass, stainless steel, or plastic, round, oval, square/rectangular?  Each choice has pluses and minuses.  Pyrex glass storage items are perfect for refrigerator/freezer storage or taking items on the go (Pyrex is sturdy though not unbreakable). Glass vessels are microwave, dishwasher, freezer, and oven safe..  Stainless steel doesn't break, but can't go in the microwave.  Plastic can leach chemicals unless you select #2, #4 or #5 or a specifically labeled food-grade container.  Round containers take more space to store than square or rectangular which can be stacked full or empty.  Lids are essential for all storage containers (and locking lids help eliminate "lost lid" issues).
Dish Cleaning Essentials
A tub or even a large baking bowl or casserole pan helps conserve water, especially if dry camping.  And it can be used to store delicate items on travel days.  Dish drying racks come in multi-tier, roll-up, over-the-sink, and collapsible styles as well as solid shapes.  And they can be stainless steel, plastic, wood or even absorbent cloth. 
You will also want dish cloths, sponges, washing brushes, and/or scrubbers. Personal preference will determine what you bring to your RV kitchen.
Linens
Dish/hand towels, napkins, dish cloths, and pot holders.  I have to confess that I use a dish cloth because it can be washed out daily and thrown into the washing machine for deep cleaning–same with cloth napkins.  I use steel wool for stubborn stuck-on food.  However, if storage space is at a premium, disposables work as well: paper towels, sponges, scrubbers.
Pot holders whether glove, pad or silicone shape are essential.
Cleaning cloths are available in cotton, blends, and microfibers.  Old t-shirts and socks work too and can be washed and reused, or thrown away when worn out.
Spices
Bland food just doesn't appeal to most people and RVers are no exception.  Salt, pepper, garlic powder, marjoram, thyme, rosemary, red pepper flakes, lemon, dill, cumin, cinnamon, clove, spices from A to Z are important for making food appealing and tasty.  Buy your spices in resealable bags if at all possible and eliminate the conundrum of where to store all those glass jars.  I find the resealable bags keep the spices fresher longer, store flat in a drawer or cupboard, and are cost-effective, especially for unusual spices that are only used occasionally.  
Tools & Utensils
Cooking, baking & eating all require utensils. Metal, wood, bamboo, plastic or silicone are your choices and will be determined by your cook, dish, and bakeware selections. A spatula, slotted and solid spoons, whisk and tongs are the basics for any cook.  Ladle, offset spatula, basting brush, skimmer, garlic press, cheese knife, potato peeler, chopsticks, kebab skewers, pizza cutter, potato masher, ricer, spaghetti server–you name it–are personal, "can't live without" selections.  How much do you use it? Do you have room to store it? Can it be used in more than one way? 
Strainers, Drainers & Colanders
A collapsible colander or strainer made of silicone is easiest to store, but a metal colander can also be used as a fruit/vegetable storer.  A fine-mesh metal strainer works for both large and small food items and an over-the sink adjustable avoids unwanted tipping spills. Silicone and food-grade plastics also come in an amazing array of colors!  So many choices!
Grill, Smoker, Fire Pit
Outdoor cooking may be your style, especially if you are dry camping without full hookups.  While an open fire is not usually allowed anywhere with today's higher fire risks, a propane or charcoal grill, a wood smoker, and a fire pit with a cooking grate are all options for cooking.  In warm weather they eliminate heating up your rig. And they offer an opportunity for family gathering as well.  Recipes for cooking outside, whether on a grill, in a fire pit, with charcoal or aluminum foil, cement blocks or solar ovens abound.  Experiment to find what you enjoy.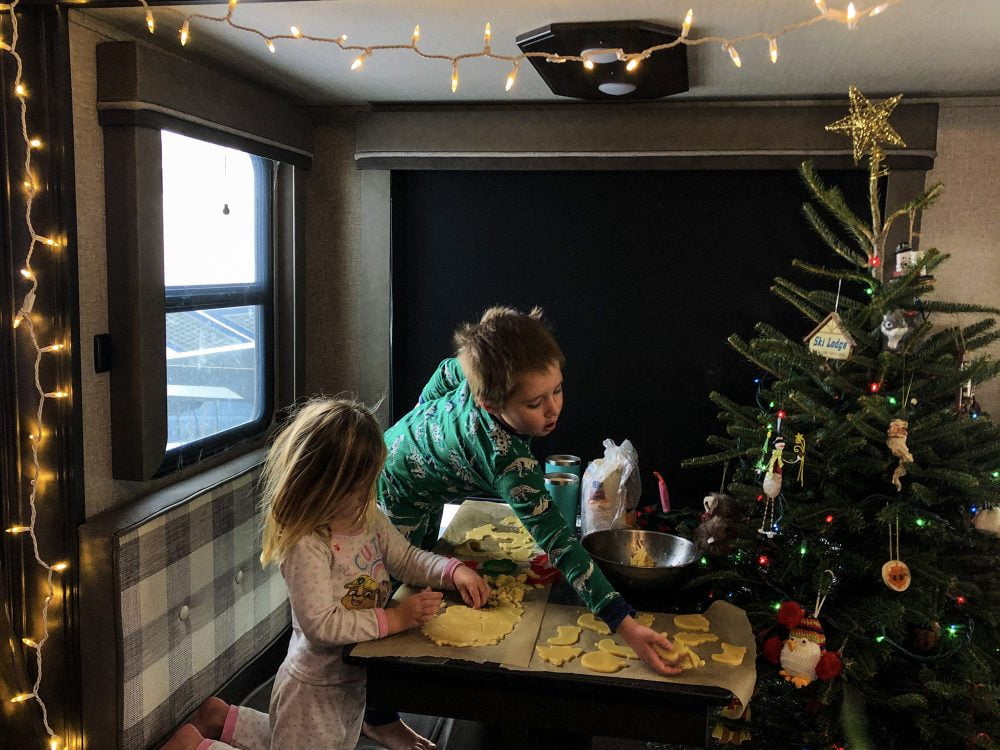 No matter how you stock it, make your RV kitchen truly yours. Combine the things you love with the way you love to cook and you will identify your very own 20 RV kitchen essentials.
About the author: Jessica Baker has been full-time RVing since 2018. She has traveled extensively throughout the U.S. and Canada in her fifth-wheel RV turned tiny home on wheels with her husband, two kids, and three cats. You can find out more about her travels at BoundlessBakers.com and follow along on her adventures on Instagram.